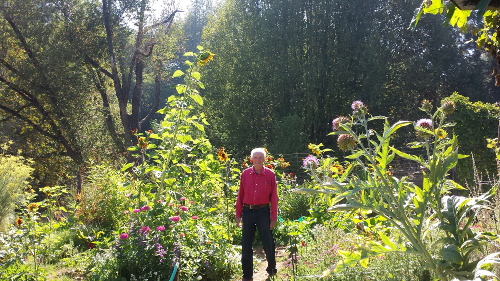 Mendocino Joint Compound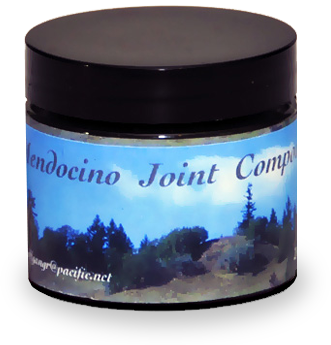 $20 - 2 oz.

Ingredients:
Castor Oil, Lavender Flowers, Cannabinoids & Poke Root, Rosemary,
Bay Leaves, Vitamin E, Grape seed Oil.
Medicinal Benefits:
Helps with gout, painful joints, arthritis, bone spurs, tendonitis, and muscle cramps. Also helps skin conditions as athletes foot and psoriasis. Assists with TMJ Disorders (temporomandibular) difficulties.
Directions:
Massage into affected areas; keep them warm overnight.
Testimonials
---
I have had Inflammatory disease for around 15 years. When I began using 'Mendocino Joint Compound' my hands, wrists, elbows and shoulders would have such severe attacks of pain and swelling I had to quit sculpting. I was having such pain in my joints I had to use two stiff hands just to drink a glass of water — picking up a pan or a fork — forget it!
As I started using the 'Joint Compound' I not only experienced immediate relief (between 15-30 minutes), my attacks became fewer and fewer each week. For me, it was nearly a miracle cure — all Natural; no side affects; no 'designer drugs' just Relief!
I am now having 2-3 mild flare-ups a Month and an extra application shuts them down within an hour! So, for me, this 'Joint Compound' is proven to be cumulative.
Jasmine Contor Dawson
Author and Medical Intuitive
Redding, California
---
I tried your joint compound, and it is by far, the best of any that I've found. I walk around smelling like an herb garden, when I use it.
Thanks.
Stephanie Hanson ph.D
---
I have a friend who has generously been sharing your wonderful salve. I find Mendocino Joint Compound helps so well topically with what I am working,- a 10 year old Dx of breast cancer that now has me stopped in full healing mode.
Ona Sachs
---
"Mendocino Joint Compound" is the only topical cream that has given me complete relief from my knee pain. I put it on once and I can work through the day with no pain.
I have had a knee issue for a few years. I tried numerous topical creams to relieve pain but the only one that worked was "Mendocino Joint Compound"
Thanks for the miracle concoction,
Amanda